You helped FSJ reach our June 30th fundraising goal of $86,000!
Thank you for your continued support of our ministry.
▸ The Fellowship of St. James was founded in 1976 to promote fidelity to Jesus Christ, encourage greater Christian unity, and defend traditional Christian doctrines and moral teachings. The Fellowship and its publications serve Protestant, Evangelical, Catholic, and Orthodox Christians who come together on the basis of shared belief in the fundamental doctrines of the faith as revealed in Holy Scripture and summarized in the ancient creeds of the Church.
---
▸ Subscription Services
---
▸ Search websites of The Fellowship of St. James
www.touchstonemag.com, Mere Comments, www.salvomag.com, Signs of the Times, The Daily Reflections
---
Only one-third of FSJ's operational expenses are met by subscription fees. Our fiscal year runs July 1 through June 30. Please prayerfully consider at what level you are able to support the ministry. Continue >>>
The Fellowship of St. James publications: Follow us online!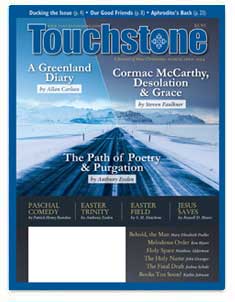 Touchstone
on C. S. Lewis & the New State Paganism
Salvo
The War Against Sexual Order Has Young Men in Full Retreat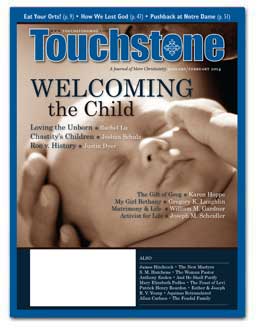 Touchstone
on the Problem of Preaching About "Responsible Parenthood"
Salvo
Dr. Eric Hedin & the Contested Boundaries of Science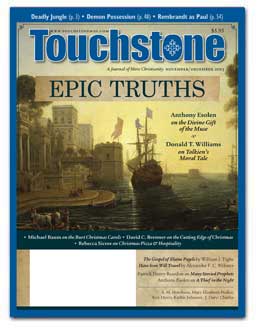 Touchstone
The Great Epics Are Theological & Mark the Hard Path to Beatitude
Salvo
An Interview with Star Parker